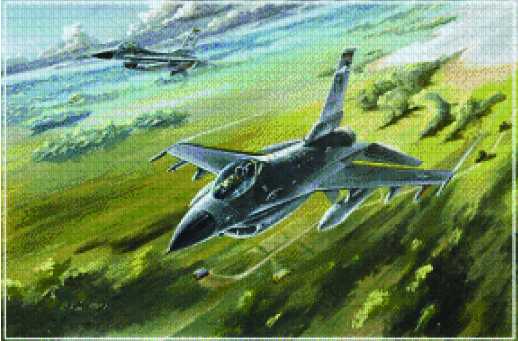 BLACK-SNAKE COUNTRY F-16

Finished size on 22 count cloth is 13.1" X 8.7".

Finished size on 18 count cloth is 16" X 10.6".

Finished size on 14 count cloth is 20.6" X 13.6".
This is a computer generated pattern. The listing is for the pattern only this is not a kit it does not include floss fabric or needle. All designs are originally created for 22 count Aida cloth using up to 90 DMC colors to ensure the finest detail and quality of finished designs. Designs can be stitched out on any size cross stitch fabric. Our detailed patterns turn out beautifully when finished suitable for framing. Please read carefully before buying and please email us with any questions.
I have been creating counted cross stitch patterns for myself and others for many years and recently made the decision to make these designs available to you. All designs start out with photographs/artwork which were either taken by myself or from my vast collection of public domain/copyright free images. All designs are my original creations and are copyrighted by Linaria Dalmatica Designs.
OUR COSTS ARE LOWER THAN OTHERS BECAUSE WE BELIEVE IN GIVING YOU REAL VALUE FOR YOUR MONEY. THE QUALITY OF THE PATTERN YOU WILL RECEIVE IS SYMBOLIC OF OUR PLEDGE TO YOU OF EXCELLENCE IN PRODUCTS AND SERVICES.
YOU ALSO SAVE ON SHIPPING COSTS "NO SHIPPING COSTS!" ITEM IS DELIVERED VIA EMAIL SO YOU SAVE AND DON'T HAVE TO WAIT EITHER! PLEASE MAKE SURE THAT YOU USE AN EMAIL ACCOUNT THAT CAN ACCEPT UP TO 10MB FILE ATTACHMENTS.
(YAHOO IS FREE AND IT WORKS)
INTERNATIONAL ORDERS CAN ONLY SHIP VIA EMAIL.
PATTERNS CAN BE SHIPPED ON CD FOR AN ADDITIONAL FEE ADDITIONAL PATTERNS WILL SHIP FREE ON THE SAME CD. CD SHIPPING ONLY AVAILABLE TO DOMESTIC USA ADDRESSES.
What you get on CD or via email (All in PDF format except as noted):

Black & White Symbol pattern on mulitple pages.

Color pattern on mulitple pages.

DMC floss legend showing symbols with matching corresponding floss & numbers (If you prefer a different floss brand let us know we can accommodate most brands).

picture (jpg)